Please feel free to download/view my CV/Resume by clicking the link above.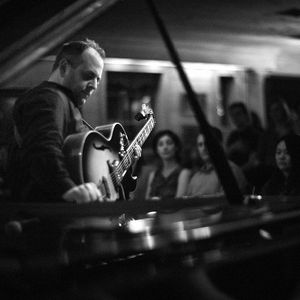 Greg Petito is a professional guitar player with over 23 years experience who is well established in the music community of Houston and across the State of Texas. Primarily a jazz and fusion guitar player, he is equally skilled at many other styles and his versatility has been noted by most peers. On any given day, he can been seen playing jazz, fusion, pop/rock/r&b,Brazilian, as well as classical guitar in ensembles ranging in size from orchestras, big bands, and jazz combos down to solo jazz or classical guitar performances. He maintains an extremely active performance schedule, appearing regularly at local venues such as Cezanne with a myriad of local and touring jazz artists, Jones Hall with the Houston Symphony, House of Blues with The Houston Jazz Orchestra, as well as ACL Moody Theater in Austin,Tx  and Revention Music Center in Houston, Tx as an accompanist with various national/international touring artists such as Il Divo, John Fedchock among many others. In addition, he can be seen most frequently with local artists such a Will Kennedy, David Caceres, Woody Witt, Dennis Dotson, Tianna Hall, The Houston Jazz Orchestra, and is also actively involved in recording sessions Sugar Hill Studios, Wire Road Studios, a well as numerous private functions/weddings/corporate parties/galas. 
Prior to moving to Houston, Greg spent various time based in Chicago, Dallas, and New York City.  Performing with artists such as Curtis Fuller, Sean Jones, Anat Cohen, Lew Tabackin, Lynn Seaton, and Geof Bradfield, he has performed at venues such as The Green Mill in Chicago and Jazz at Lincoln Center in New York City, as well as playing notable jazz festivals such as the Chicago Jazz Festival, Denton Arts and Jazz Festival, Mackinac Island Jazz Festival and in October of 2013, Greg Petito was a featured artist in China at the International Music Festival of Chonqing. He has also toured extensively within the United States, European Union as well as parts of Northern Africa and Central America with commercial artists such as Il Divo, The Platters, Cheyenne Jackson, Andy Bell of Erasure, as well as broadway productions of "Wicked", "Pippin", and "Chicago: The Musical".
Greg is also an active educator and clinician. He is a current faculty member at San Jacinto College, where he runs the Jazz and Classical Guitar programs, as well as Kinder High School for the Performing and Visual Arts, teaching jazz guitar lessons and jazz rhythm section class. He has conducted guitar clinics and has been a featured artists at Sam Houston State University, HSPVA, Texas Southern University, Lone Star College, as well as being the All State Jazz Guitar Clinician for the Texas Music Educator's Conference from 2015-2020.
He holds a Master of Music Degree in Jazz/Classical Guitar from Northern Illinois University and a Bachelor of Music Degree in Jazz/Classical Guitar from the University of North Texas. At UNT, he was a full scholarship recipient and member of the UNT 2 O'Clock Lab Band and UNT Zebras. At NIU, he was a full time Graduate Teaching Assistant to Professor Fareed Haque, member of the NIU Rosebud Jazztet, as well as the NIU Jazz Ensemble.